The Charcoal Hype!
The hype is real and charcoal has been taking over social media with those infamous peel-off masks. But the benefits of it go far beyond having a good laugh at someone's failed beauty tutorial or the weird pleasure of watching a successful video of blackheads being peeled-off skin.
In fact, this has been used for medicinal purposes and water-treatment for centuries – and it can be extremely beneficial for not only your skin but your hair, health, and overall wellbeing!
Use it as… a teeth whitener
Might seem odd that such a dark substance can actually have a super whitening effect, but this is one of the most common and well-known uses of charcoal. DIY a whitening toothpaste by buying activated charcoal from your local health food store or pharmacy – as it is usually sold in tablets you can grind up one or two, and mix it with enough water to form a dense paste, which you will use to brush your teeth with for at least three minutes. Rinse profusely and then brush your teeth normally with your usual toothpaste.
Ain't got time to DIY?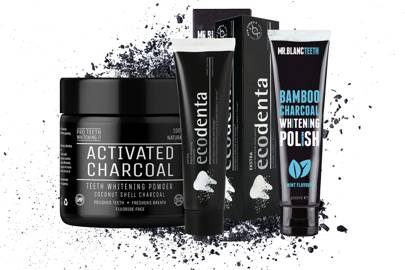 Try these: Teeth Whitening Activated Charcoal Powder 100% Natural
It is the natural cleanser for when your skin is in need of a heavy detox. Its gritty texture works as a great exfoliator, while drawing out excess oils from your skin and deeply cleansing pores. Once again you'll have to mix activated charcoal with water to create a dense paste, we advise buying the powder version for this DIY, as you'll be applying it all over your body.
Ain't got time to DIY?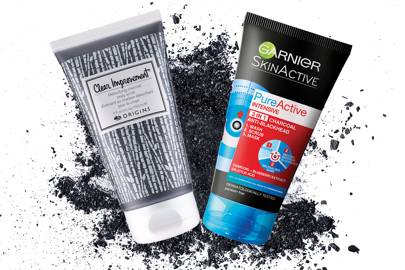 Try these: Origins Clear Improvement Detoxifying Charcoal Body Scrub,Origins; Garnier Pure Active Intensive 3 in 1 Charcoal Anti-Blackhead Scrub
Use it as… a detoxifying hair mask
Adding a bit of activated charcoal to your regular shampoo can do wonders for your hair. Just like in the scrub, the black powder will help draw out impurities from scalp the and reduce oiliness – that's why you can find activated charcoal in some dry shampoos.
Add one tablespoon or one tablet of to your shampoo and wash your hair normally, if you have light hair you might need to wash your hair a second time, with regular shampoo.
Try these: Charcoal Gelee' Masque
Use it as… a face mask
Worry not, this is nothing like the painful peel-off masks' videos you might've seen. Peel-off masks are made to unclog pores in a harsh way that may not fit sensitive skin types. The super absorbent properties of charcoal have the same purpose – unclogging pores by drawing out impurities, without risk of scaring skin.
Use the same process as the body scrub, but add less water for a thicker mask-like paste; or go all out on the DIY and mix 2 teaspoons of bentonite clay with 1/2 teaspoon of activated charcoal powder, 1 teaspoon of apple cider vinegar and 1 teaspoon of water, for a pore-cleansing but glow boosting mask
Ain't got time to DIY?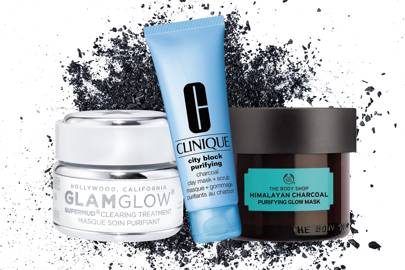 Try these: GlamGlow Supermud Clearing Treatment, GlamGlow; Clinique City Block Purifying Charcoal Clay Mask & Scrub,  Clinique; The Body Shop Himalayan Charcoal Purifying Glow Mask, The Body Shop
Use charcoal as… a water filter
Detox all the way adding a couple of sticks of charcoal into your water bottle. This helps purify water by soaking in toxins and impurities. This is actually a big hack amongst health junkies and you can even buy water bottles with built-in stick compartments, behold…
Ain't got time to DIY?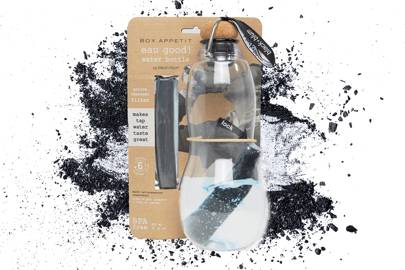 Try these: Black & Blum Eau Good Bottle, Asos
And happy detox!
XO,